Here's a closeup of Adelia:
The last few weeks I've been spending a good part of my Saturday afternoons at the bookstore. For some reason it's been a good way for me to get some drawing done.
This last Saturday (that would be yesterday) I was working on developing the world of Adelia more. When I first attacked this project I wanted it to be very minimal in extra detail and backgrounds. My first Adelia book was done completely in that style. But now it's been about a year and a half that I've been drawing this character - in that time my style has been evolving and Adelia is a good part of that.
The original sketch shows a lot more info than what I eventually put in. I wanted the crayon ship to be more of a rocket...which meant the balloons were out of place. I think, if time permits, I'm going to do a version of this with balloons (which means doing it without the smoke).
I also eventually opted out of using the moon. I felt it would take away from the composition - and it was just loud and clunky, and didn't really fit.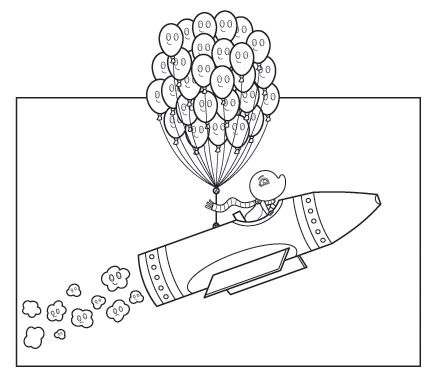 In the rough I did a couple of versions of Adelia - one where she was in profile and the other where she was in a more interesting and dynamic pose (I went with this one in the cleanup). If you notice, there are a lot of faces on everything. in the rough the crayon had a pig face (because of the snout like tip)...I'm still toying around with the idea of having everything be alive and a character all on it's own. Obviously it has Tokidoki feel to it (there are many illustrators using this, and I got into it through researching for a freelance job for Kitson and Nikki Chu handbags - they wanted a series of illustrations in the hello kitty, tokidoki, gwen stefani style). It's a direction I'm exploring as it lends itself quite well to toys. But we'll see...I don't think i'll go so overboard as to put a face on EVERYTHING. But we'll see...
And here's the final illustration: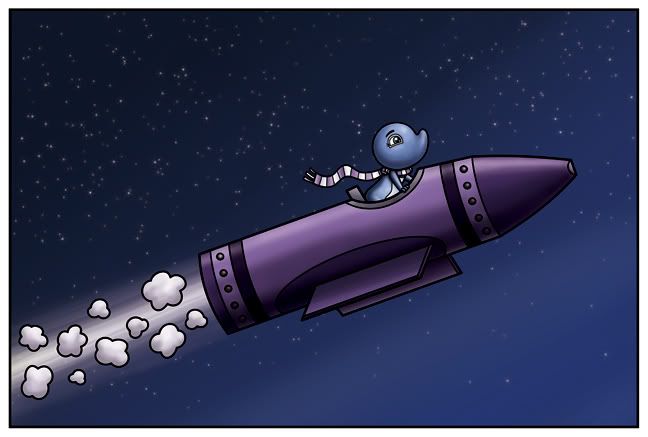 And I created it for Illustration Friday - Adelia takes a rambunctious ride through the cosmos.