This is a revised version of a really old rough painting I did in my sketchbook a couple of years back. I was obsessed (at the time) with doing small 5x7 drawings that could easily be framed and sold. I did a bunch of Adelia drawings in my sketchbook and watercolored them. This is the one that turned out the best:
I had always meant to tackle it again and repaint it for real (not in my sketchbook). But I never got around to it...until this last weekend. I printed out the watercolor lowering the opacity so I could see my revised lines easier, and then drew over the printout. I'm going to clean it up in Illustrator when I have a chance, and then repaint it.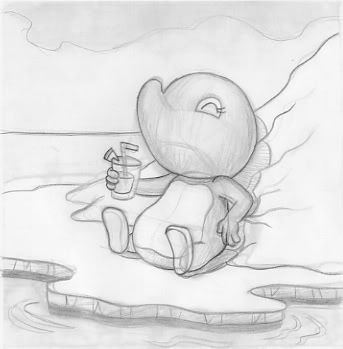 It's very similar to the original - but there are key differences - small bits of perspective, and I changed the hands (because my hands were a little weak originally) and I changed her pose so her body is under her head. I just can't wait to tackle it...
Sadly, it'll probably take a little bit of time as I have many (art related) things on my plate currently...