I've done the composition of this one previously - I thought the idea was quite genius - having two objects (in this case penguins) self contained in their own border and crossing over with just their beaks. I did it as an acrylic and again as a watercolor (this was late spring when I was first coming back to painting and I didn't know if I wanted to continue struggling with watercolor or struggle with acrylics...)...both turned out decently enough...but were kind of on the suck side. I was impressed with them both at the time because I was still learning (still am) and was impressed with how well I could do.
This was in my sketchbook as a thumbnail where I worked out what I wanted
And this is the first watercolor and acrylic painting I did. Both are quite about twice the size of the one I just finished (turns out I like working in watercolor, just very very small...makes everything easier to manage and manipulate)...

Anyhow - The one I currently did was on hotpress watercolor paper...I'm still trying to figure out if I like that better (than coldpress)...if you don't know - the difference is that hotpress is very smooth and coldpress has a bit of texture (which varies depending on the brand of paper you buy). I also redrew the adult penguin because I didn't like the angle that he ended up being in the first - the profile was just too boring. So now his head is turned a bit and I actually looked at reference this time around - so he looks more like what a gentoo penguin is supposed to look like.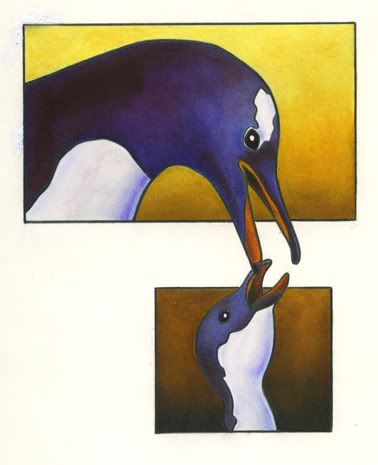 "
Vomit sure does taste better coming from Mom"