This was one of my first thumbnails for a penguin.
It was going to be one of my first attempts at a watercolor using my Dr Martin concentrated water color. I thought the first attempt came out pretty good - the only thing was that, at the time, I couldn't decide what I wanted to do with the background. So...I left it white.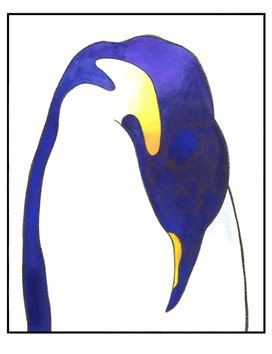 After I did some other pieces I decided that it'd look nice if I did one of those gradient backgrounds on it (and I might go back and do it again with a blue background...just because I think the blue backgrounds look the best).
Solo Emperor Penguin: in yellow
Another thing that happened when I started this second one is that I changed the size of the piece. The original version of it was about 8"x11" and the second one was on a smaller 6"x9" piece of watercolor paper. The only difference between the two is that the smaller version couldn't have a pencil border because the penguin took up too much of the paper...so I just painted to the borders with the intent to put it in a glass frame where it would 'hover' in the center...there wouldn't be a need for a matt, as the picture extended to the end of the paper.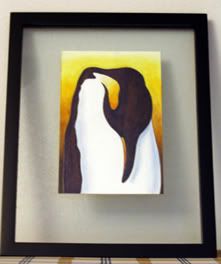 Solo Emperor Penguin: in yellow (framed)