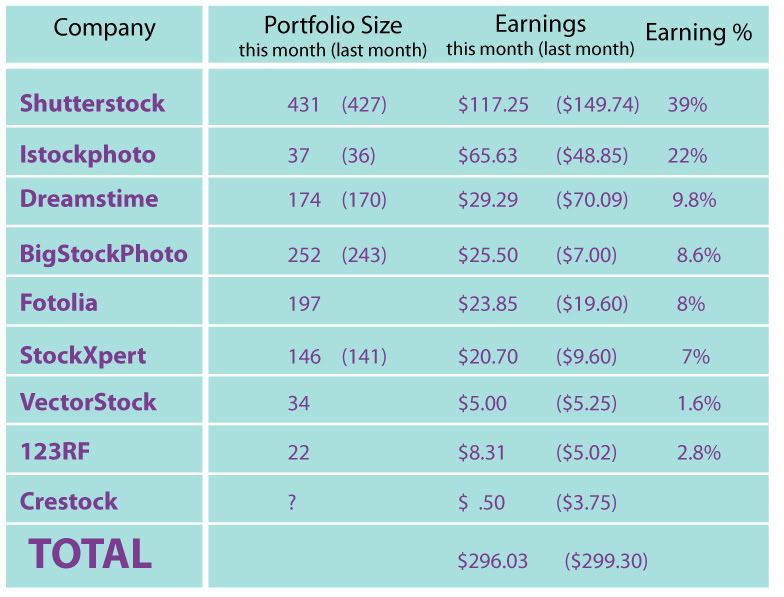 It seemed like it was going to be quite a disappointing month in Microstock.
Shutterstock
took quite a hit because, once again, we didn't really upload any. We really have been losing out on ODs (which are $2.49 downloads) which have really dropped off from the last couple of months. My gallery show is over, so when I have some spare time, I've been trying to do some small things for these sites...
Anyway -
Shutterstock
still leads the pack (with $117). They're still the easiest to upload to, and have the easiest acceptance of all the microstock sites. And it seems like you get more downloads from
Shutterstock
than from any other site...
Coming back into second place was Istockphoto. With $65 it was Istockphotos best month ever. It's actually quite impressive (to me) because of how small our portfolio is (37 images).
In 3rd place - and it was expected to drop - was Dreamstime - http://www.dreamstime.com/res1220499-high-resolution-pictures - Last month we had our first EL (extended license) which accounted for 25 dollars all by itself...this month our total was a bit lower...but the downloads were constant (a couple every day or so) for a total of $29 for July.
What was surprising was how much we made on
Bigstockphoto
! Last month we were at an all time low of $7 (for the entire month!). It came roaring back into 4th place with $25.50. And it wasn't just one or so images, but a bunch selling throughout the month.
On Fotolia - we got our second EL - it was a vector EL this time - so it only accounted for 12 dollars, but made for a decent showing on Fotolia (which seems to have slowed way down from the first couple of months)...but we still ended up with $23. http://www.fotolia.com/partner/200987314
And finally - the last one I'm going to talk about is Stockxpert. I was surprised that it ended up in 5th place on the list with just over $20...because we always got downloads on this site...the only thing is that a download or two a day (and consistantly) at 30 cents a clip doesn't add up to that much. Once again we got an EL (our third total for all sites...I've heard it's hard to get ELs for illustrators...people usually reserve that pricey download for photographs) for Tracey's Chocolate Strawberry.
It wasn't such a bad month because some of the sites picked up the slack of some of the slower ones. I expect
Shutterstock
to pick back up because of some new uploads...and Istockphoto, even with a small portfolio has been very consistant. We were only off the pace of last month by a couple of dollars ($4.27 to be exact)...so all in all, not so bad for the 3rd month in a row where we didn't really upload anything. It's quite nice to make 300 dollars (almost) for not doing a bit of work (mostly)...! I'll report again next month!