Last weekend I did some freelance work for a handbag designer named Nikki Chu. She wanted something that was similar to Hello Kitty or Gwen Stephani's line Hirojuku girls or Tokidoki. So I had a lot of information to grasp, in order to do something in a similar style. What came out of it were some really cute drawings and a few really nice props that I designed in Illustrator.
Anyhow - I ended up really liking they style of Tokidoki - it envokes the cute simplicity of a particular Japanese art. Based on the previous drawings I did and the research - coupled with the cute head shape I've been drawing for a children's board game - I decided to do a series of drawings...again, drawing from all of these other things, but doing it in my own style.
I currently have 4 or so pages full of little characters like this. I'm going to have a lot of work ahead of me to get these things cleaned up and colored. But it was a lot of fun, and I love how the color version turned out. As usual - I cleaned up the character in Illustrator, and did a 'shadow' of bamboo in the background (also in Illustrator). When I colored it in photoshop I erased the lines of the bamboo to give them a softer look.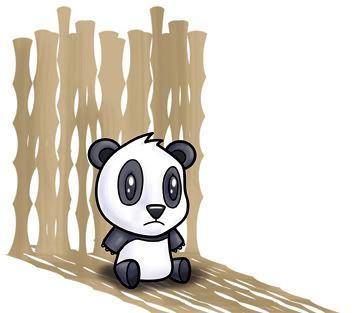 Anyhow - as always, I'm available for freelance illustration work. If you need to take a look at more samples, check out www.isaacmarzioli.com.