Every Christmas at my work we have a little party for the crew. Each time the big attraction is the annual christmas tree decorations contest. I've been working there for the last 7 years, and have only started competing the last couple. I always sited a lack of time or interest...but usually I was just too lazy.

Last year my wife took an interest, even though she's not on the crew - and so she did an oranment:
It actually won first place in the contest...we won a fancy pancy foot massager. It was quite nice. And what's even better is that my wife did quite a fantastic ornament based on a new character that was about to debut on Fairly Odd Parents (the show I work on).

For this Christmas - we had to not only renew our efforts, but improve upon them. We basically knew that everyone would be gunning for our trophy....and basing most of the ornaments on the new show we're creating called Tuff Puppy. My wife, once again, pulled out all the stops and did this one (the character was created with Crayola clay):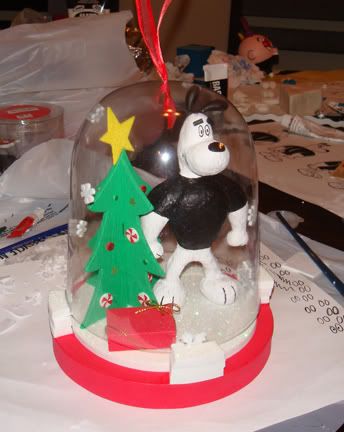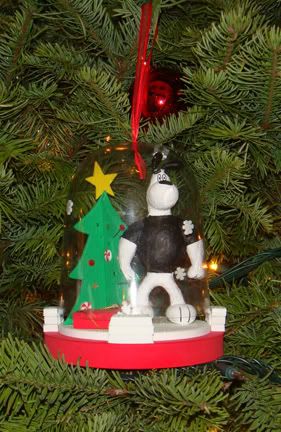 Sadly, this year we only got 3rd place...there were, at least, 4 other Dudley Puppy ornaments (the winning one was plush and had a jar full of Christmas lights for a belly). We'll either try harder next year or give up entirely...we haven't decided which yet.
By the way - I did this ornament based on the Fairly Odd Parent's baby Poof. He's dressed this way because I based it on an episode that hasn't aired yet (we haven't even started designing it all yet...so far it's just been storyboarded):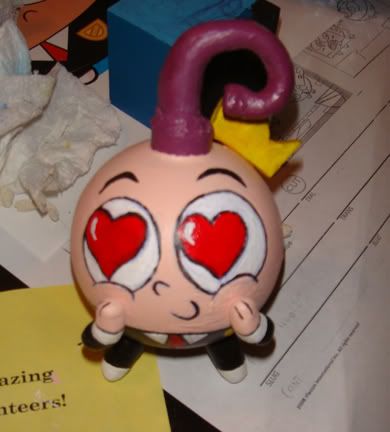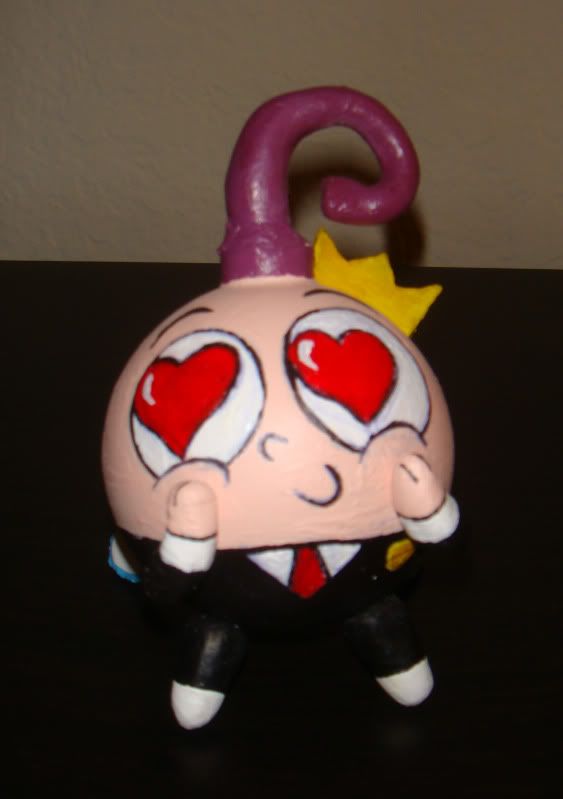 This is the Poof ornament in the Christmas Tree

And because I wanted to overachieve (thinking it would bring us first place) I also did this ornament based on the panda character that I've been drawing all year long: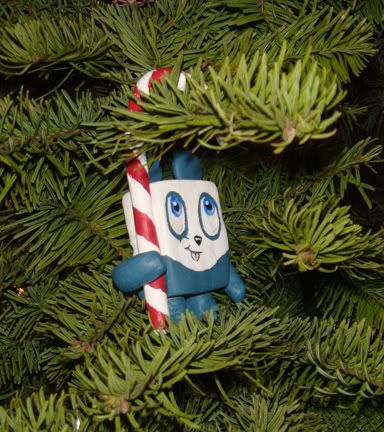 I took his Santa hat off because I didn't want it to fall off in the tree...and I wasn't sure if the arm and candy cane would be strong enough to hold all of it up...the last thing I wanted was the arm to rip off of his body - especially while the judges were looking.
Anyway - It was a lot of fun...it's incredibly challenging for me to do anything with clay. It's so easy to draw something and make that work...but sculpting a character in real life is hard work. The clay was so resistant to what I wanted it to do. I could stick with it and eventually figure it out, but I'd rather stick with my pencil.