These are a couple of pieces I did for my art gallery show at Nickelodeon Animation (which, sadly, is ending it's run next week). I modified a few key elements in the first illustration to make it more interesting.
So I've done this piece - which I'm posted already - but in an attempt to push the boredom on the panda's face, I changed his eyes to have him look away...
"how to lose your cush juggling job"

I really thought that worked.
In doing this piece - I had conceived it in two parts (originally it was three, but I don't have the time to do another one as the gallery show is in two weeks!)...the above illustration was part one...the jester isn't really hacking it...
My second piece was originally going to include chainsaws, but seeing as how this was going in a gallery where children would see it (at Nickelodeon), I decided to do a tiny bit of self editing...I know the gallery doesn't let you put up paintings with guns in them...and while I don't really know their rule on chainsaws, I figured it was smarter to take it out and go with a bowling pin. Plus, it was pointed out to me, that the chainsaw might take away from the thrill of seeing the jester juggling a cat.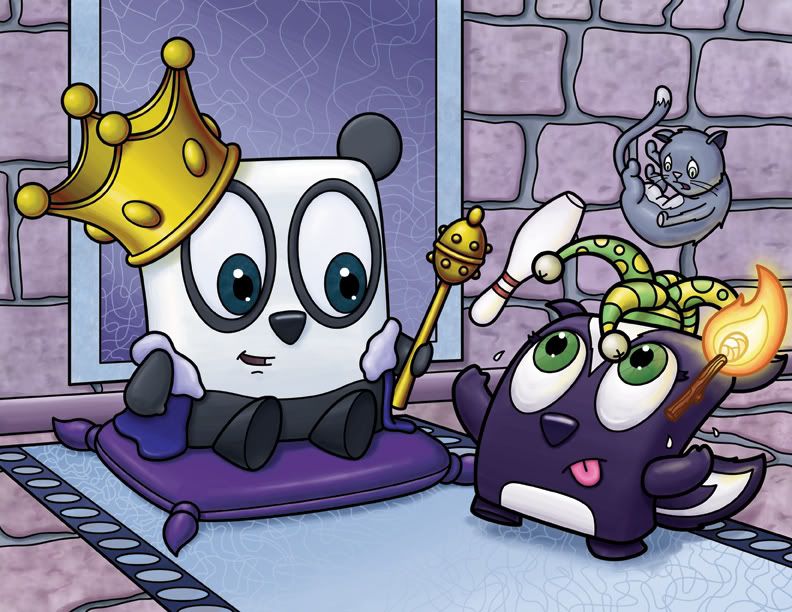 "how to keep your cush juggling job"

Now that's some fine juggling!